Hacking is a very serious problem for the today's Websites. It is important to pay a lot of attention to the security of your hosting account, most especially your cpanel. It should be well-protected to prevent hackers from taking full control of your website.
 However, some aspects of account protection depend not only on your hosting company, but also on the owner of the account.
Last week, my website was hacked. After my hosting company helped me recover it, I had to do a thorough research on how to protect my website from desperate hackers. ( link to things to do to protect your WordPress website from desperate hackers).
We all know how important hosting is to a website. Without a hosting company, your website is as good as useless.
Now first things first, in order to efficiently and completely protect your website, you have to make sure that you protect your hosting account, most especially your cpanel, because your hosting company have a back up of your website, but if these hackers get hold of your hosting account details, then you will make it difficult for your hosting company to recover your site when it is been stolen.
Below is how you can protect your hosting account (cpanel).
1. Use a username and password that cannot be guessed.
Always ensure that you use a password that cannot be guessed. Some people set a password which is easy to remember for easy access. It is strongly recommended to avoid using passwords which consist of dictionary words, names of your relatives, friends or pets, important dates, cities, etc. These passwords are not secure as it is really easy to find such information about you, especially if you have an account in any of social networks.
When we register on a site for one purpose or the other, we are requested to fill in our personal data. some important personal data can be gathered during several online conversations with you by means of email, forum, chat or in a social network. So in case your password is your pet name or your birthday, do not be surprised if your account gets hacked.
Also, hackers have special tools which can be used to get your password (cryptanalytic atta). The main idea of such attacks is checking all possible words until the correct one is found. Such attacks can be successful if your password is a simple word from a dictionary.
So I strongly advice you to use passwords which consist of randomly mixed low and capital letters, special symbols and digits. And it should not be less than eight symbols. You can use any special program for passwords generation as well as in-built cPanel password generator. It can be found in cPanel >> Password & Security.
For cPanel Basic Theme: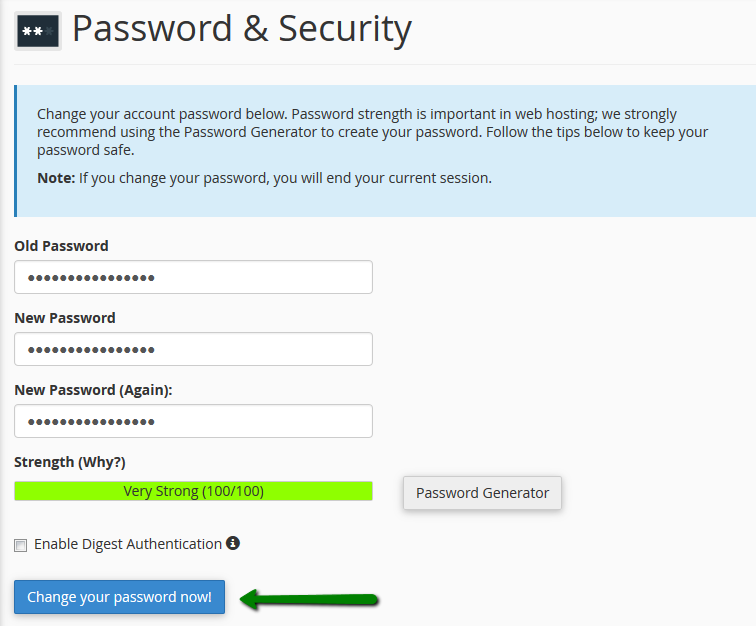 For cPanel Retro Theme:


2. Change your password from time to time.
It is important that you change your password regularly.
Also, you can change your passwords for your email accounts in the cpanel. Just go to cPanel >>Email Accounts menu.
For cPanel Basic Theme: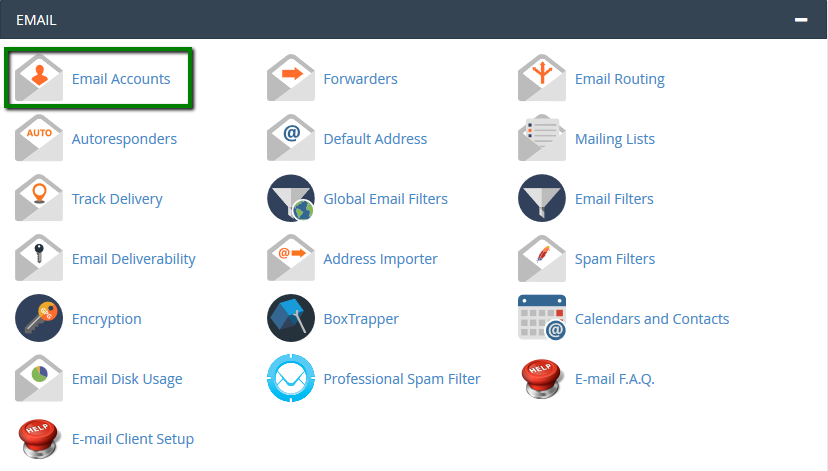 For cPanel Retro Theme: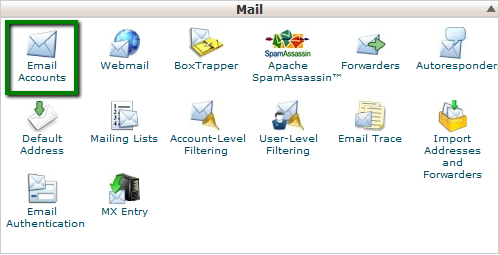 Do not keep Your Hosting username and password in your email account inbox if you are not the only person who has access to it. Also, do not store your cPanel login details in a text file on your desktop, especially if you are not the only user of the computer. Do not share your username and password with anyone.
4.Use Two Factor – Authentication
Two Factor-Authentication adds an extra layer of security to your cPanel account in addition to your username and password by requiring access to the phone number associated with your account. Without your smartphone, you cannot log in.
When Two-Factor Authentication is enabled, your account cannot be accessed by anyone unauthorized by you, even if they have stolen your password.
Use effective firewall and antivirus software with the up-to-date databases on your personal computer. Always perform a full scan of your computer regularly. Some viruses are intended to steal your login details and transmit them to someone who needs them. Also, there are special applications which are known as keyloggers. They gather a log of keyboard buttons pressed by you, make screenshots of your desktop and send this information to a hacker. Such software can be detected by a good antivirus program, so do not forget to check your PC regularly.
It is recommended to use a secured connection always.
To avoid having the files located in your hosting account being at hazard, it is recommended to use different means of scanning for malicious software. First of all, you can use an in-built cPanel Virus Scanner.
For cPanel Basic Theme:

For cPanel Retro Theme:

Also, you can use some free online scanners such as this one:
It is better to combine these two ways of checking your account for viruses. In order to prevent having viruses and malware on your account, it is recommended to use themes and plugins only from trusted providers.
It is recommended to keep a backup of your account somewhere in a safe place on your PC or a third-party server. Please do not forget to update it from time to time in order to avoid losing the important information. You can create a full cPanel backup in cPanel >> Backup.
For cPanel Basic Theme:


For cPanel Retro Theme: